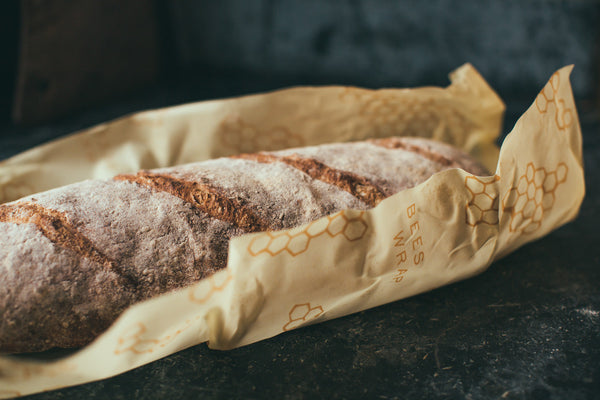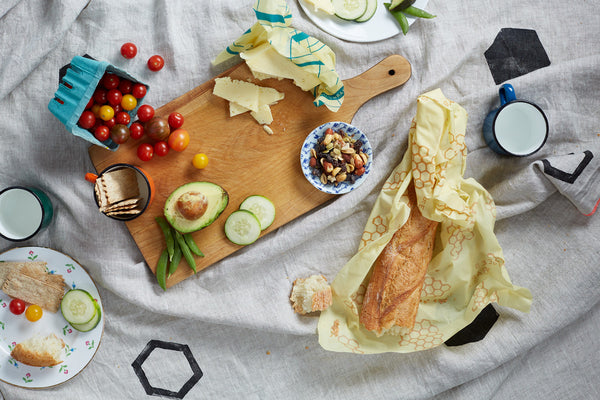 Bread Wrap!
Give your food the love it deserves. A Kitchen Workhorse, this brilliant product is an invention of Sarah Kaeck - and a natural alternative to plastic wrap for food storage.
Good food has always been central to Bee's Wrap founder Sarah Kaeck's life in Vermont. A mother of three, and and avid gardener, Kaeck set out to find a healthier and more sustainable alternative to plastics in her family's kitchen. Experimentation with beeswax-imbued fabrics led to the discovery of a lost tradition — and the founding of Bee's Wrap.
HANDMADE IN VERMONT
Durable, versatile, and reusable, the food storage wraps honor the farm-to-table spirit that celebrates sustainability, craftsmanship, and sustenance. 
The Bread Wrap is 17" x 23", and is our largest wrap. Very popular for storing fresh bread, and large enough to cover a casserole dish. The wrap doubles as a handy baking mat for kneading dough or rolling out a pie crust. When wrapping a loaf of bread, or sealing an over-sized bowl or dish, simply use the warmth of your hands and form our wraps around a piece of food or over a bowl or casserole dish. As the wrap cools, the seal will hold its shape.
FEEL GOOD ABOUT IT - ECO-CONSCIOUS INGREDIENTS
Bee's Wrap® is made with organic cotton, sustainably harvested beeswax, organic jojoba oil, and tree resin. The wraps are fully biodegradable and compostable.
REUSABLE & WASHABLE
The natural antibacterial properties of beeswax and jojoba oil help keep food fresh, and allow Bee's Wrap to be used again and again. It's easy. Simply wash with cool water and soap, hang to dry, and repeat. Used several times each week, Bee's Wrap will last for roughly one year.